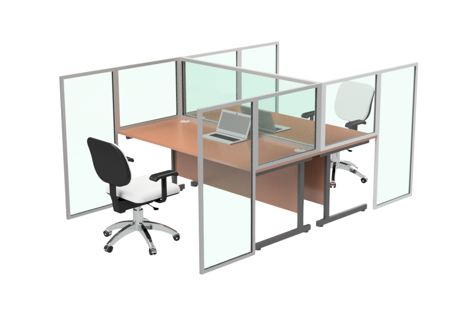 Putting People A​t The Centre: The Coronavirus Effect On Office Design
SAS International is reinventing its offer in reaction to a compelling focus on safety.
Remaining absolutely open for business throughout the current lock down (factories currently operating at 70%), our in-house product development team has reacted fast to produce a new range of "Personal Space Management" solutions to meet immediate need, while also reflecting on the longer-term potential for re-thinking office design.
SAS believe the pandemic will accelerate the move towards genuinely people-focused design. And by "people-focused" we mean a focus on the individual – designing workspaces that accommodate the needs of each and every person rather than considering office workers as a herd.
Areas for speculation include: reduced density of people; fixed desk working (who wants to hot desk now?); increased focus on cleanliness – and closed ceilings; reduced use of air circulation – more passive temperature controls such as chilled ceilings; less open plan, certainly greater compartmentalisation within buildings.
SAS are already committed to a focus on wellbeing and are supporters of the WELL Building Standard, and we believe that the immediate need to protect office workers will mean that asset owners and designers must now translate lip-service into a genuine "person-first" approach.
SAS's recovery plan includes "pre-immunisation" and "post-immunisation" phases.  With many major projects currently on site or at advanced planning stages, SAS business is less affected in the immediate short term than many others – but we are anticipating challenging times ahead and so have put in place robust plans to support our customers.
As a secure, financially stable business, SAS are well-positioned to flex our offer and invest in an acceleration of technology such as augmented reality design tools and online collaborative working as well as the rapid introduction of new product solutions.