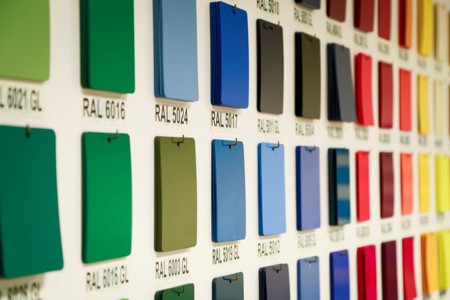 Colour choice
Typically, SAS Ceiling systems are finished in polyester power coat (PPC), for the quality of finishes and durability PPC offers excellent protection, affording  minimum of warranty of 25 years*
The vast majority of SAS projects specify white (RAL9010), which is why it has become our standard. In reality, any RAL colour can be specified in PPC to suit project requirements.
We are also able to offer PPC finishes with metallic flecks, pearlescent sheens, or light textures.
Alternative Finishes
Specifications are not necessarily limited to flat RAL colours, either. A host of special effects finishes are also available, including but not limited to, polished metal, wood and ceramic effects. Aluminium systems can also be anodised, opening up another range of aesthetic options.
Performance Coatings
SAS suppliers non-standard coatings for specific applications, such as anti-microbial coatings for healthcare, or fine textured coatings for pure matte requirements. If you have a specific niche application, please contact our design team for more information.